So, we've been in Newport since Sunday night – and we've discovered that so many things that were working great in Texas, didn't want to work in Rhode Island.
It figures. This shit always happens on boats. And it's guaranteed to happen when you have a deadline where you need stuff to work.
So, first, the autopilots (both of them) were working, but on a glacial pace. They were only moving millimeters at a time, so we figured there must be a loose connection or other voltage drop. Threw ourselves into finding that issue and found the issue. Autopilots working again. Brian from Pelagic Autopilots was super helpful and got us looking in the right direction. The problem had nothing to do with the autopilot rams, but the power to the autopilot computers.
Then Justin noticed that we were suddenly in hurricane force winds, according to our wind instrument. Except, there was fog and the flags weren't being ripped off the poles. Our B&G instruments were suddenly reading a rapidly accelerating 90 knots. Called B&G tech support and confirmed the anemometer needs to be replaced. No problem. It's under warranty and they can overnight a new one. So simple… Except they didn't send the replacement on Tuesday, or Wednesday, or Thursday it seems. So, on Thursday we drove the 2 hours to Defender and picked up a replacement. Back up the rig for the 3rd time and…the new anemometer doesn't work. In fact, it took down the whole network. Then the cable didn't work either, so we ran a new cable up the mast. Chris drove another 2 hours to Defender and back again for a 3rd anemometer and…up the mast for the 4th time and still nothing. In the end the original works better than any of the replacements, so we are going with that. It's notable to mention that while B&G was busy not shipping my overnight shipment for 3 days, we waited on hold for approximately 5 hours to try and get in touch with them. Oh, and their call back system doesn't work. See where we're at with this?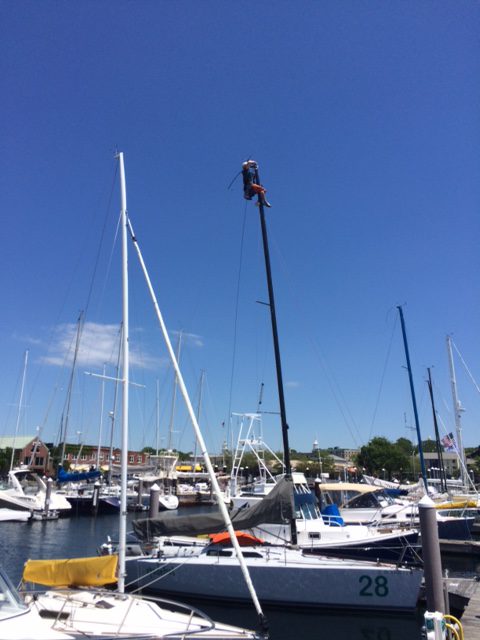 Other than that, getting to Newport, and getting the boat ready has gone swimmingly. Newport is super cool and the weather was a pleasant 75 degrees and sunny today. Plus, we learned what stuffies are (Chris a fan of the tasty appetizers, Justin not as much).
Check this out. We saw the 100 footer, Comanche, on board a ship, all by its lonesome. Presumably it was about to depart for LA and the Transpac that starts in July.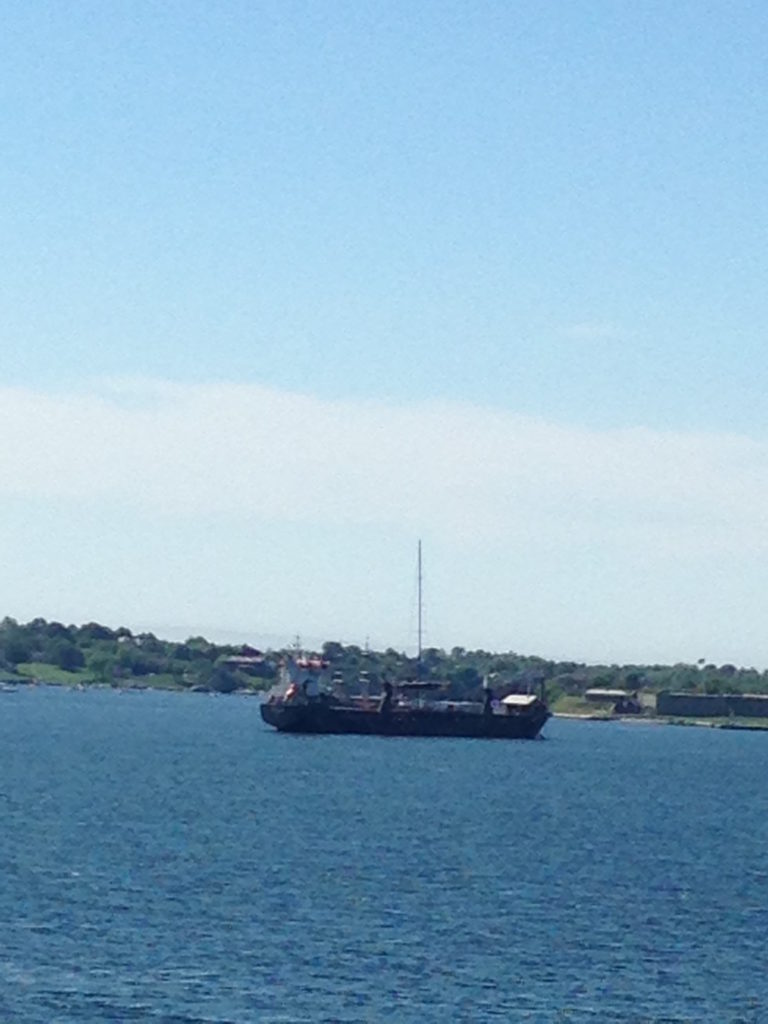 Oh, about the race. Bermuda 1-2 starts tomorrow. Spadefoot is in Division 2 out of 5 divisions. 9 boats in our division will make for some great competition.
There will be a tracker on board and you can follow along with the race at http://yb.tl/onetwo2017#
The race website is http://bermuda1-2.org/,